NEWDB is Hiring!
Now recruiting a Workforce System Coordinator
The employee will be responsible for operational familiarity with rules and regulations of the Workforce Innovation Opportunity Act (WIOA, The Opportunity Act) as well as other applicable Federal, State, and Local laws, guidance, policy, and procedure.  The employee is responsible for reviewing program, fiscal and operational aspects of the WIOA Title I program and workforce system for compliance, best practices, and policy/procedural development.  This position has functional supervisory responsibilities and reports to the Northeast Workforce Board Executive Director.
The role of the Workforce System Coordinator is defined as: Functional management, compliance and oversight of Oklahoma Works centers and services; and Coordination of the delivery of Workforce services within the Oklahoma Works system throughout the local area.
To be considered for the position, the individual must meet the minimum criteria outlined in the job description. To apply individuals must a submit a resume, three references and cover letter to: michelle.bish@northeastworkforceboard.com
Workforce System Coordinator Job Description
---
Request for Proposal for Audit Services
NEWDB Request for Proposal Audit Services PY 20
Request for Proposal for WIOA Title 1 Adult/DLW/Youth Services
NEWDB Title 1 RFP A/DLW/Y 04012021
NEWDB Response to Technical Assistance Questions 
---
NEWDB COVID-19 Response and Resources
For more information Regarding Services, Unemployment, and Resources for Businesses relating to the Corona Virus (COVID-19), please visit our COVID-19 Update. We are routinely updating our Corona Virus page to ensure you receive the latest information. The NEWDB Reopening Plan outlines new protocols for services and hours of operation.
---
Who We Are
The Northeast Workforce Development Board (NEWDB) is a local, nonprofit workforce development initiative and a proud partner of the American Job Center Network. Serving seven designated rural counties in Northeast Oklahoma, our local board is charged with serving the needs of job seekers and employers alike. The Northeast Workforce Development Board has the responsibility, on the local level, to act as a convener and a collaborator and is charged with hosting community conversations to better align workforce resources in education and economic development to better understand the complexity of the regional market.
The NEWDB is responsible for tapping innovation and opportunity in our service areas to drive positive social and economic change.
---
Local Updates
Oklahoma Works - Work Based Learning Solutions
NEWDB PY 20/21 Negotiated Performance Measures
---
Success Stories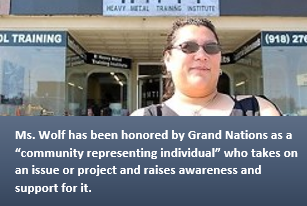 Bobbie Wolfe founder of the Heavy Metal Training Institute (HMTI), noticed a lack of opportunities for Northeast Oklahoma residents, particularly in rural communities and Native American tribes, and a local need for Commercial Driver's License (CDL) training. HMTI provides hands-on truck driving training with a focus on safety. HMTI is currently providing work-based learning opportunities with three (3) Work Experience participants and is working with local WIOA staff on the possibility of an On-the-Job Training opportunity as the training center continues to expand. Recently, HTMI acquired the old Frank and Sons Transport Company and lot in Big Cabin, allowing for the expansion of the training facility which can now offer housing as needed.   Learn more about Bobbie Wolfe and HTMI.
Steven Anderson, of Anderson Studios was affected by COVID-19 and like so many other self-employed individuals, experienced significant financial devastation due to the pandemic in March of 2020.  He heard about Oklahoma Works services through Light of Hope and worked with a Workforce Innovation and Opportunity Act (WIOA), Title 1, Career Coach being enrolled as a Dislocated Worker in April of 2020.  After assessment, Mr. Anderson was placed in a work experience position with the Light of Hope food pantry operating under the Community Food Bank of NE Oklahoma. Mr. Anderson serves as a Food Panty Supervisor providing essential services to hundreds of families in need. Read more about Steven Anderson's story
---
Equal Opportunity Complaint
If you feel you have been discriminated against and wish to file a complaint, please complete the EO Complaint Form.