Who We Are
The Northeast Workforce Development Board (NEWDB) is a local, nonprofit workforce development initiative and a proud partner of the American Job Center Network. Serving seven designated rural counties in Northeast Oklahoma, our local board is charged with serving the needs of job seekers and employers alike. The Northeast Workforce Development Board has the responsibility, on the local level, to act as a convener and a collaborator and is charged with hosting community conversations to better align workforce resources in education and economic development to better understand the complexity of the regional market.
The NEWDB is responsible for tapping innovation and opportunity in our service areas to drive positive social and economic change.
Reinventing Our Communities Cohort Program
April 13, 2022 — The Northeast Workforce Development Board (NEWDB) is proud to announce its participation in the Federal Reserve Bank of Philadelphia's third annual Reinventing Our Communities Cohort Program. The program is focused on strengthening regional economies by addressing race-based economic inequities in rural and small urban regions across the country.
View the press release for more information.
Bailey, a young adult challenged to find full time employment due to a lack of work experience was referred to Title 1 Youth Program to obtain experience in an office setting. Through a partnership with Claremore Industrial Economic Development Authority (CIEDA), Bailey was placed in a meaningful Work Experience. Her supervisors, Meggie Froman-Knight and Caitlyn Ngare reported that Bailey performed exceptionally well in her position and that her peers enjoyed having her as part of their team. Through this work experience Bailey developed skills such as preparing meeting minutes, agendas, collecting data for events, and overall event planning. Bailey's supervisors provided great support for her and played an instrumental role in her professional development. In March 2022, Bailey applied for a position at Rogers State University in Claremore as an Executive Assistant. Bailey was offered the position and is happy to be earning a livable wage. Bailey is focusing on her next goal of receiving a Graduate Degree in hopes of being able to work for a non-profit organization. All of this was made possible through the experience and skills she gained while completing her Work Experience with CIEDA. Bailey is grateful for the opportunity provided through the WIOA Title 1 Youth Program.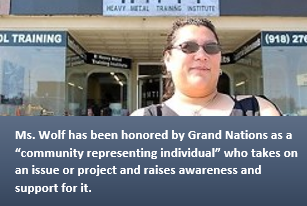 Bobbie Wolf founder of the Heavy Metal Training Institute (HMTI), noticed a lack of opportunities for Northeast Oklahoma residents, particularly in rural communities and Native American tribes, and a local need for Commercial Driver's License (CDL) training. HMTI provides hands-on truck driving training with a focus on safety. HMTI is currently providing work-based learning opportunities with three (3) Work Experience participants and is working with local WIOA staff on the possibility of an On-the-Job Training opportunity as the training center continues to expand. Recently, HTMI acquired the old Frank and Sons Transport Company and lot in Big Cabin, allowing for the expansion of the training facility which can now offer housing as needed.   Learn more about Bobbie Wolfe and HTMI.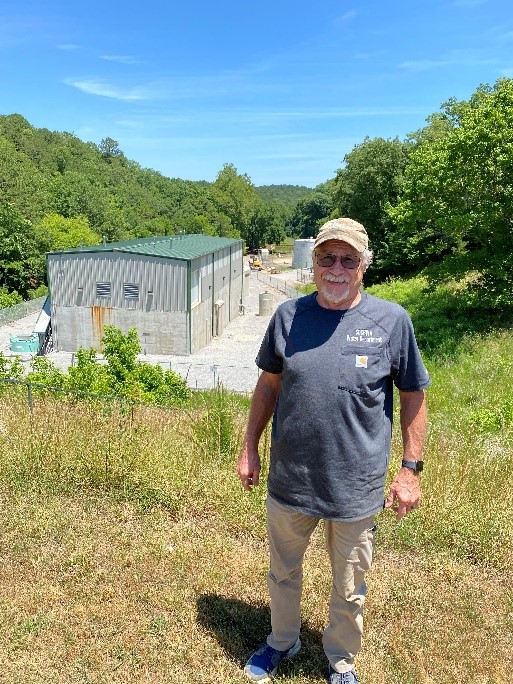 Michael Lozier retired after 30 years to open his own business as a fishing and hunting guide. However, the impacts of COVID led to the closure of his business. Mr. Lozier wished to change careers at this point and had interest in construction and water treatment, but did not have the necessary skills needed for that line of work. In January 2022, the Oklahoma Rural Water Association (ORWA) referred Mr. Lozier to NEWDB for a position with the South Delaware County Regional Water Authority (SDCRWA). The referral from ORWA provided opportunity for a partnership with the NEWDB through the On-The-Job (OJT) learning piece of the Registered Apprenticeship Program (RAP) that Mr. Lozier was going to start. The NEWDB Business Service Team (BST) connected with Don Wilcoxen, General Manager of SDCRWA to confirm the training tasks and connected Mr. Lozier with the Enrollment Team to screen for eligibility and enrollment in Title 1 services. In tandem, the BST collaborated with the worksite while the Enrollment Team worked with Mr. Lozier to start his OJT with SDCRWA on February 1, 2022 making $15 an hour. During his OJT, Mr. Lozier has gained several specific skills such as knowing how to adequately pull and read sample findings, documenting system maintenance needs, and fulfilling work orders. He has completed phase one to date and obtained his D License and a wage increase to $16 an hour. Mr. Lozier has two more phases to achieve. Mr. Lozier will continue in this capacity until he completes all the requirements of his RAP with ORWA and gains his nationally recognized credential as a Water Operations Specialist.
---
Equal Opportunity Complaint
If you feel you have been discriminated against and wish to file a complaint, please complete the EO Complaint Form.