Who We Are
The Northeast Workforce Development Board (NEWDB) is a local, nonprofit workforce development initiative and a proud partner of the American Job Center Network. Serving seven designated rural counties in Northeast Oklahoma, our local board is charged with serving the needs of job seekers and employers alike. The Northeast Workforce Development Board has the responsibility, on the local level, to act as a convener and a collaborator and is charged with hosting community conversations to better align workforce resources in education and economic development to better understand the complexity of the regional market.
The NEWDB is responsible for tapping innovation and opportunity in our service areas to drive positive social and economic change.
Reinventing Our Communities Cohort Program
April 13, 2022 — The Northeast Workforce Development Board (NEWDB) is proud to announce its participation in the Federal Reserve Bank of Philadelphia's third annual Reinventing Our Communities Cohort Program. The program is focused on strengthening regional economies by addressing race-based economic inequities in rural and small urban regions across the country.
View the press release for more information.
---
Success Stories
Robin was unemployed and searching for a stable career. Robin's previous employment in construction was limited to contract work and once it ended, he had difficulties finding employment because he had no formal education, limited work experience, and previous justice-involvement in his background. Learn more about Mr. Sharp's journey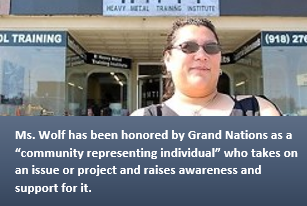 Bobbie Wolf founder of the Heavy Metal Training Institute (HMTI), noticed a lack of opportunities for Northeast Oklahoma residents, particularly in rural communities and Native American tribes, and a local need for Commercial Driver's License (CDL) training. HMTI provides hands-on truck driving training with a focus on safety. HMTI is currently providing work-based learning opportunities with three (3) Work Experience participants and is working with local WIOA staff on the possibility of an On-the-Job Training opportunity as the training center continues to expand. Recently, HTMI acquired the old Frank and Sons Transport Company and lot in Big Cabin, allowing for the expansion of the training facility which can now offer housing as needed.   Learn more about Bobbie Wolfe and HTMI.
Steven Anderson, of Anderson Studios was affected by COVID-19 and like so many other self-employed individuals, experienced significant financial devastation due to the pandemic in March of 2020.  He heard about Oklahoma Works services through Light of Hope and worked with a Workforce Innovation and Opportunity Act (WIOA), Title 1, Career Coach being enrolled as a Dislocated Worker in April of 2020.  After assessment, Mr. Anderson was placed in a work experience position with the Light of Hope food pantry operating under the Community Food Bank of NE Oklahoma. Mr. Anderson serves as a Food Panty Supervisor providing essential services to hundreds of families in need. Read more about Steven Anderson's story
---
Equal Opportunity Complaint
If you feel you have been discriminated against and wish to file a complaint, please complete the EO Complaint Form.